Fall Clinical Experience Information
All clearance documents for clinical courses are due prior to placement. Any student that does not submit these documents will not be able to begin clinical hours and will need to drop the course. Students may not register for courses with clinical hours during the late registration period.
Student Teaching Tentative Start Date TBD
Student Teaching Tentative End Date TBD
Clinical Hours Tentative Start Date TBD
Clinical Hours must be submitted on Watermark TBD
Student Teachers must register for student teaching TBD
Official passing MOCA scores for prospective student teachers must be received from NESINC TBD
Lesson Plans
Form 4.2 5E Lesson Plan Format Template
5E Lesson Plan Instructional Tool
APPLICATIONS
Application for Initial Certification
http://go.hssu.edu/ae/aefiles/11/Lesson%20Plan%20Instructional%20Tool.png
CLINICAL EXPERIENCES HANDBOOKS
College of Education/Student Teaching Handbook
Student Teaching Orientations
Adding An Additional Area of Certification

https://dese.mo.gov/educator-quality/certification/already-certified-teacher
S.T.E.P Program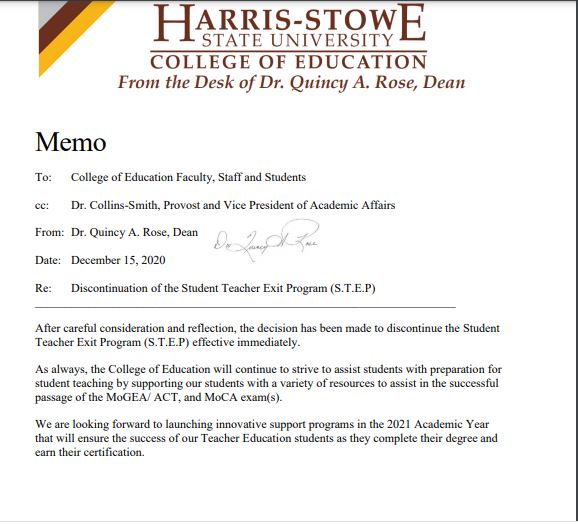 Questions or concerns may be directed to the College of Education at Harris-Stowe State University by calling (314) 340-3661.
(If you do not have Adobe Acrobat Reader, you will need to install a free copy from http://get.adobe.com/reader/.)