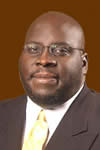 Dwyane Smith, Ph.D.
Vice President for Academic Affairs
(314) 340-3612
SmithD@hssu.edu
Dr. Dwyane Smith is a native of St. Louis, MO, and a product of the St. Louis Public School system. Dr. Smith has a Bachelor of Science degree in Psychology and a Master of Arts degree in Education Administration from Truman State University (formerly Northeast Missouri State University). He earned his Ph.D. from the University of Missouri-Columbia in Educational Leadership and Policy Analysis, with emphasis areas in Multicultural Education and Black Studies. He also completed the Management Development program at Harvard University.
Dr. Smith has conducted research across the U.S. and abroad on issues of access, diversity, multiculturalism and pluralism, and he coauthored the article "A Portrait of Remedial Instruction: Faculty Workload and Assessment Techniques," that appeared in the spring 2008 edition of the Higher Education Journal. He has facilitated workshops on diversity and multiculturalism in various schools and colleges in Great Britain.
The Chair Academy honored Dr. Smith as a 2010 Exemplary Leader at the organization's 19th Annual International Conference. The Missouri College Personnel Association (MOCPA) also recognized Dr. Smith with the 2009 Dr. Richard Caple Award.
Dr. Smith joined the Harris-Stowe family prior to the start of the 2006-2007 academic year. "I have long admired the impact that HSSU has had on the state," said Dr. Smith. "While working at other institutions, I would often encourage students to attend HSSU. I also feel that my talents and skills set would be useful at HSSU. I believe in the leadership of Dr. Givens and the vision he has for transforming lives; I do believe that we have some of the best faculty not only in the metropolitan area, but the state."