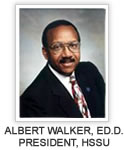 I am Dr. Albert Walker, president of Harris-Stowe State University.
As a former captain in the U.S. Army, I can say that the values and dedication needed to serve in the armed forces will help almost anyone become a successful college student. Finding the right university to attend is important to you, and at HSSU we strive to provide veterans, active-duty military personnel, and qualified family members with extraordinary service and attention. We firmly believe that individuals who serve in the military enhance our campus, so we work very hard to ensure that their college experience is a superior one.
It is our goal to help members of the military and their families understand the many options available for funding a college degree. For example, combat veterans who were a Missouri resident when they entered the military may wish to take advantage of the Returning Heroes Act, which allows qualified individuals to take courses for as little as $50 per credit hour. We can also help veterans and qualified family members utilize available resources such as the Montgomery GI Bill, REAP, Vocational Rehabilitation Program, Survivors and Dependents Educational Assistance Program or the Post 9/11 GI Bill.
I would like to personally invite you to contact a member of the President's Office, Mrs. Lea Sutherlin (a veteran herself), and tell us about what you are seeking in a college or university. Click on the red CONTACT US! button below to get started.
You have provided a great service to your country. Let us have the opportunity to provide a great education to you!